Gazebo kits , pergola roofing and patio roofing can all benefit from an asphalt shingle system. Asphalt shingles are long-lasting roofing materials made to resemble the natural beauty of slate and timber shingles / shakes, without the high price or annoying ongoing maintenance.
Some benefits of our pergola kit & DIY gazebo kit materials are:-
Cheaper than most gazebo kits roofing alternatives.
Can replace thatch roofs, cedar shakes, tiles, metal and virtually any roof material.
Very easy DIY kit installation.
No maintenance required. (No sweeping up Bali thatch or oiling/staining cedar shakes)
Long-lasting with 20 – 40 year International Warranty's.
Insulated plywood panels.
Suitable for roofs above 8 degrees pitch (lower pitched achievable)
Suitable as a wall cladding.
Lightweight system.
Light gazebo kits easy to send around Australia.
Custom made gazebo kits & pergola roofing made to order.
Improved sound-proofing qualities.
Styles resembling natural slates and wooden shakes.
Shade providing.
Suitable for gazebos, pergolas, covered patios, sheds, garages, Bali huts.
To measure your outdoor roof here is a neat little program.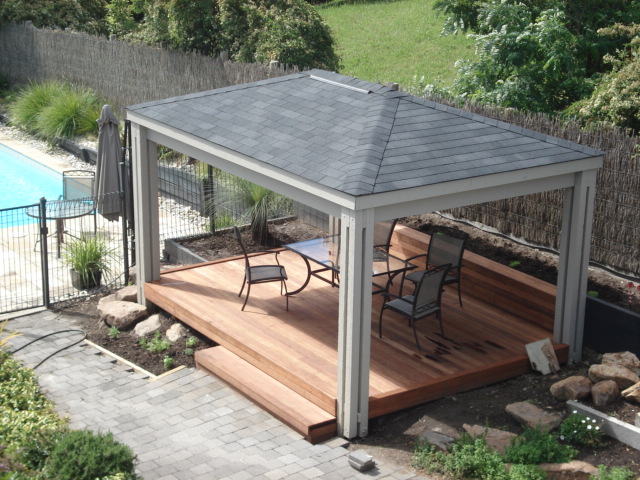 Gazebo Kits & Pergola Roofing Materials Australia specialise in the supply and installation of American shingle roofing materials. We are the proud Australian distributors for IKO Corporation, the largest exporter of shingle roofing materials Worldwide.
DIY Gazebo Kits & Pergola Roofing Supplies Sent around Australia
We send out gazebo kits for new roof's and as a replacement product throughout Australia. The whole shingle system is very lightweight enabling us to send it to remote areas of Australia for little cost. These lightweight pergola roofing & gazebo kits (18kg/m²) can replace virtually any type of cladding from metal to tiles and anything in-between.
Do-it-yourself installation is becoming increasingly popular for new homes and all sorts of backyard roof's. Using simple tools found in most homes a gazebo kit roof,  your shed roof or pergola roofing project can be built in a weekend with no prior experience. Aging pergola roof's, Bali huts and outdoor gazebos can all be replaced with long-lasting shingles, so be rewarded with 30 – 40 year International manufacturers warranties.
Call one of our home, gazebo kits & pergola kit specialist's for advice or to supply a free no obligation quote for your DIY shingle project.